*Before you read this, I would like to apologize in advance. Blogger must be cropping the pictures to make them fit in the space provided for posts, so you can't actually see them in full view. And it seems that html stuff does not work on the compose tab, so damnit. If you want to see the pictures you can visit my Photobucket, convieniently linked to the tittle. T-T

I'd have to say that there's enough proof on this site that I. Am. An. Initial. D. Fan. Period, period, and period.

Yesterday I went to the mall to go off and search for the items for our Goldberg project. So after buying a pulley and some hooks, we went to the toy store (Toy Kingdom, for your information) and went looking for some motorized toy car, you know, those with a remote or something the like. Anyway, after picking one from the display outside, I went inside and looked for a plastic shovel, the kind kids use to build sandcastles, or lumps, in the beach. Anyway, we went down the path and lo and behold... I saw a display of cars and... THERE WERE INITIAL D CARS THERE!!!

So, as expected, I went something like, "OMG..." And went over to the display and almost pressed myself against the glass staring at the scale car models. The big problem is that it's WAY expensive, kinda logically expected. Anyway, I took some pictures of the cars, including their price tags.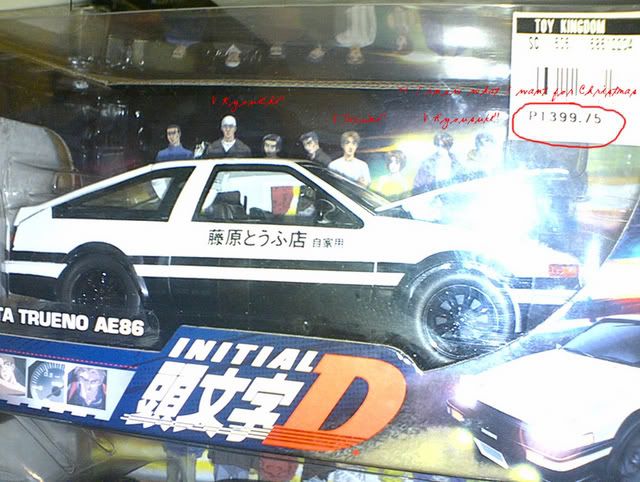 An AE86, Takumi's car. It even has the advertisement for their tofu shop. ><



Now, an FD, an RX-7, Keisuke's car. Oh, man, it looks great on screen, you can even see the characters at the back. The color of the car is right on camera, but in real life it's a bit too... orange. But not orange, thankfully. What is Natsuki doing there?! She isn't a racer!



Here's Ryousuke's car, the FC. You can probably deduce that it's related to the FD, yep it is. It's the older version of the FD, you do know the alphabet after all. ;D Sorry if the quality of the photo isn't good. It seems like I have a hard time taking pictures of shiny white or black things, like this car, and my other cars...



This is the R32, GT-R! Dum, dum, dum-dum!!! It looks really menacing in the anime, First Stage though. In the Second Stage it does nothing except park and hit the wall. Tsk, tsk, Nakazato, where's your supposed skill gone? Anyway, this car doesn't interest me much, although I've seen some people from DA saying that the GT-R is "hot". Bah, they can go their own way, I want an RX-7! (Well, RX-8 actually, but close enough.)

Here are the car I actually have already: My tiny car collection...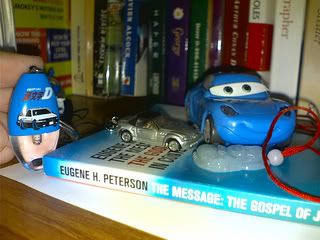 These are just some random stuff I got, and the light thingy with an 86 is something that can be attached to a cellphone. The small silver car looks like a Cappuccino, or an S2000... And the toy, you may recognize it from the Pixar animation, Cars. That Porche model makes me think of the Nissan 350Z, it's also a Porche car, so I think this is that Nissan 350Z car...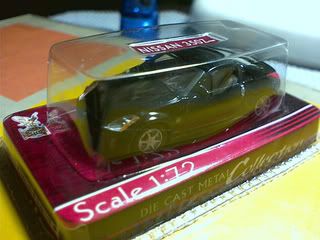 This is a Nissan 350Z. Does it look like the Porche from above? Yep. And Tatsuya Shima from Wangan Midnight drives this car, it even has the right color! >< (http://en.wikipedia.org/wiki/Wangan_Midnight)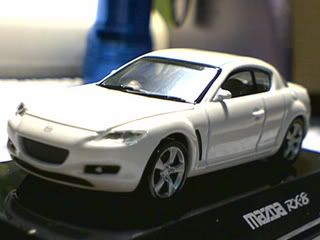 This, is my RX-8. Man, I dream of saying that one day and meaning it, like I actually have the actual car and not simply a model of it. Sigh... Stares reverently at picture...



This is just a picture of it all.



This is my newest addition to the collection. It's an Impreza, it's a scale model of what Tommi Makinen drove during the 2002 Monte Carlo WRC rally... To tell you the truth, apart from it being a sedan and not a coupe, it looks a lot like Bunta's Impreza... Not stickers of course. Maybe that's why they had Bunta's car color blue and not gray as it is in the manga.

And since this post is just jam-packed with car pictues, I may as well just put the pictures of our real car... Well, my mom's anyway. Why? It's her money and her car.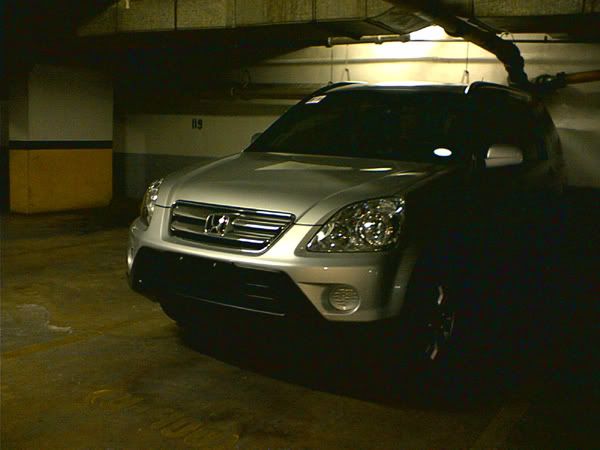 Scary? I took a picture of it just as my annoying mother pressed the button to open the doors. As you can see they don't have plates, so I don't have any second thoughts of posting on the net. You can see her in the picture though...

And to finish this photo post off...
http://s80.photobucket.com/albums/j167/Kamyuz/?action=view&current=Image223copy.jpg&refPage=&imgAnch=imgAnch9" target="_blank">